Contact Us
| | |
| --- | --- |
| Recruiting: | (415)554-7000 |
| Information: | (415)554-7225 |
| | |
Sheriff Jobs
This Application Period Closed 3/4/2013. Testing is in progress.
Upcoming Events
San Francisco War Memorial Building - 401 Van Ness
WELCOME NEW SHERIFF'S EMPLOYEE
Karen Chan, Payroll and Personnel Clerk
March 2013 Retiree:
Lieutenant Allen Wong #810
28 Years
Employee Profile: Winny Chak
Thirty years ago, former Chief John Courtney needed a Filing Clerk for the Civil Division. He didn't have to look too far before he found the enthusiastic Winny Chak. Winny was hired in 1981 through the job programs at the Cathedral Schools. Initially, she was hired as a part-time filing clerk and quickly moved to typist.
Today she holds the title of Sr. Legal Clerk in the Civil Division and reports to Lt. J. Garcia. Winny works behind the scenes and ensures all monies and documents that come through our Civil Unit are processed and distributed correctly. This is no small feat considering our Civil Unit handles matters as complicated as property liens, wage garnishments, temporary restraining orders and elder abuse reports.
Winny likes the Sheriff's Deputies she works with finding them family-oriented, smart, funny and friendly. Winny also feels that family at work is just as important as it is at home. As she puts it, "[A]t Civil we are one big happy family and we work together as a team."
When asked how long she planned on staying with the Department, Chak laughed and said that even though she has already given 30 years of service to the department, it would be hard to leave.
Announcements:
Jail Psychiatric Services has announced extended hours of service. Effective June 15th there will be additional jail coverage from 2:30pm to 10pm.
Information Technology & Support Services
A Message from Sheriff

Ross Mirkarimi
If you have been listening to the news then you may have heard the ongoing debate in Sacramento to halt or roll back "state prisoner realignment" also known as AB109. Implemented in late 2011 to alleviate over-crowding in our state's prisons by returning prisoners to county sheriff and adult probation departments.
An implicit aim of realignment is to reverse the appalling state repeat offender rates (recidivism) which hit a 78 percent failure rate.
A number of county governments, most conservative or smaller, are pressuring the governor and state lawmakers to desist with the Realignment program. Among the reasons, they fear it exacerbates their public safety challenges. But it also reveals a number of counties who over relied on incarceration without rehabilitation.
I think it would be a mistake to stop realignment at least for San Francisco. There are some legislative bugs that need reworking such as tighter reimbursement protocols from the state to local government. But as those issues get worked out, a larger reality breaks through, that both state and county governments are required to tackle an issue that has vexed public safety for years -- the nexus between safe communities and effective reentry for ex-offenders.
San Francisco is poised to make realignment work and it needs to as our city must also tackle high repeat local offender rates. Predating Realignment, a unique collaboration between the Sheriff's Department, Adult Probation Department, District Attorney, Public Defender, Police, City Hall, and service providers, was formed to improve reentry (rehabilitation) strategies. This partnership braced us for Realignment.
Now we are taking our work to the next level between us and SF Adult Probation into a first for California; the creation of the Reentry Pod (see article below). If the Department of Corrections and Rehabilitation (CDCR) follows through with both their funding and prisoner commitments, this intensive case management pod could prove to be a template worth replicating. Four other counties are already betting on the Pod strategy and want to follow our lead which in turn, is making Sacramento nervous because of funding.
Since the San Francisco Sheriff's Department is one of the few counties that's "under-crowded" in our jails, coupled with reentry reforms that we seek in and outside the jails, it's vital that the state persist toward meaningful criminal justice reforms.
On another note, we're excited about our new mobile command vehicle. We purchased it last year and now it's delivered. We will show it off at City Hall and Hall of Justice over the next few weeks.
San Francisco's Innovative Reentry Pod Debuts
Continuing their efforts to improve the safety of all San Franciscans, Sheriff Ross Mirkarimi and Chief Adult Probation Officer Wendy Still, surrounded by deputy sheriffs, deputy probation officers, rehabilitation coordinators, educators, service providers, clinicians, and case managers, held a press conference in County Jail #2 A Pod to announce the opening of the Reentry Pod.
The Reentry Pod, which opened on February 28, 2013, is a unique partnership which joins pre and post release programs for offenders to ensure that individuals have established strong connections to community based treatment, benefits, housing, job training, and supportive services prior to release.
The populations to be served by the Reentry Pod are individuals who will be released to the AB109 supervision of the Adult Probation Department upon completion of their custody sentence.
Upon release, these individuals will continue to access resources at the Adult Probation Department's Community Assessment and Services Center and other public or community based partner sites. Providing this continuum of services pre-release and immediately upon release is expected to substantially improve outcomes for this high-risk, high-need population.
SFSD inFocus: Part Three: County Jail #2
Part Three in a series of articles that will serve to inform and educate the public on the San Francisco County Jail system. Look forward to future editions where the other jail facilities will be spotlighted to detail the function and role that it plays in our system.
County Jail #2, located at 425 7th Street, is rated at 392 beds and contains six individual housing units. The units, which are referred to as pods, are configured in a two-level circular layout. A deputy station is located in the middle of each pod, affording deputies a line of sight to both the lower level (dormitory settings) and the upper level (dormitory or cell configuration) of the unit. All pods are accessed by remotely operated sliding doors on each floor. Currently, CJ#2 houses all of the female inmates in the San Francisco county jail system.
After being booked and processed at CJ#1, the majority of inmates will come to CJ#2. The male inmates are housed in the pod referred to as the Intake Classification Pod (ICP). Because inmates in this pod are being assessed by classification for appropriate housing, the population is diverse. Among the different kinds of inmates in the ICP one will find inmates in jail for the first time, inmates who have been in jail many times, and inmates who are withdrawing from alcohol or drugs. The typical stay in the ICP is from three to five days.
CJ#2 has a fully functional kitchen, laundry, three medical offices, a dental office and a recreation area on the top floor. Other Sheriff's units (Technical Services, Classifications Unit and the Sheriff's Bureau of Building Services) have offices in CJ#2.
CJ#2 also has four classrooms where inmates attend classes at the San Francisco Sheriff's Department Five Keys Charter High School. Other inmate programs and services include law library assistance, mental healthcare, and classes on substance abuse, violence prevention, anger management, parenting, and women empowerment.
CJ#2 also houses the SISTERS program-an innovative program established in 1993 for women, which addresses substance abuse in order to break the cycle of recidivism. The SISTERS program provides intense programming in the jail as well as wraparound services and case management after the women are released from custody.
CJ#2 is also home to our reentry pod, one of our newest programs. In collaboration with the SF Adult Probation Department, the reentry pod houses inmates up to 120 days prior to their release. The goal is to help prepare them for their return to the community. It is believed this partnership is the first of its kind in California. We are receiving calls from law enforcement agencies throughout California that are requesting information on beginning their own reentry programs.
The department is very proud of all the staff assigned to CJ#2. They execute the many challenging assignments at this facility with dedication and professionalism.
Training Update: Crisis Intervention Training Program
For over 30 years, Jail Psychiatric Services (JPS) has worked collaboratively with the San Francisco Sheriff's Department to bring forward-thinking mental health programs to the San Francisco City and County jail. While the San Francisco jail has always housed a large number of chronically mentally ill individuals, recently there has been a dramatic increase in both the number and severity of these clients.
MORE ON THE CITY'S CHALLENGES MANAGING THE MENTALLY ILL
In response to this influx, JPS has again partnered with the department to develop an innovative training program. In November of 2011, JPS and the Sheriff's Department began conducting intensive Crisis Intervention Training (CIT). This education program is designed to improve the quality of services provided to the mentally ill population. CIT training occurs over the course of three days with both sworn and civilian employees attending. The first two days of training are presented in a classroom and focus on providing staff with useful tools and information about successful ways to approach individuals with complex presentations, and to ensure the safety of clients and staff. Curriculum topics include: communication strategies, working with special populations, suicide prevention, mental health law, and job burnout. On the third day of training JPS escorts the students into the community to directly observe some of the resources that are available to people in crisis (e.g., DORE Urgent Care Clinic, Psychiatric Emergency Services, San Francisco General Hospital Ward 7L).
Department staff consistently report that the training is useful and provides them with tangible tools to utilize when interacting with difficult or distressed inmates. JPS and the department are excited to be able to provide such an essential training to staff and are committed to assisting staff working throughout the jails, hospitals and community clinics. Currently, San Francisco is the only county jail in California that is providing this level of comprehensive training.
Sheriff's Mobile Command Center Delivered
After two years of research and development and with the help of generous grant funds from the Urban Areas Security Initiative, the department has a new Mobile Command Center (MCC) in our fleet.
Approximately 40 feet in length, this vehicle contains a galley, lavatory, slide-out conference room for on-site planning, additional interior and exterior work stations, built-in alarm system, night vision camera system on a 26' mast, 360-degree security camera system, seven TV monitors, and four computer workstations. With its LED light tower and all-around-scene lighting - including detachable halogen light poles - the MCC can function in all weather conditions. It also boasts a diesel generator making it completely self-contained.
The MCC is equipped with state-of-the art communication equipment and can take on a variety of public safety challenges. It has four radio work stations, each with 16 radios that can communicate up to 1000 channels, wireless internet, multiple telephone lines, satellite TV, microwave video feed, and hostage negotiation equipment, including audio and video throw phone capability.
This versatile vehicle will be used primarily to support Incident Command System functions and will help coordinate department resources. It will be used to assist in managing special events for the City and County of San Francisco such as the Halloween and New Year's Eve celebrations. It will also help the department respond more effectively to calls for assistance with emergency situations like natural disasters and incidents of civil disorder. Not only will the MCC provide a valuable resource for the Sheriff's Department, it can also be made available for joint operations with other local, state and federal agencies.
Secret Garden Grows Hope in San Bruno
Behind the concrete walls and barbed wire fences of the San Bruno Jail Complex, something positive is germinating, and a secret garden is growing.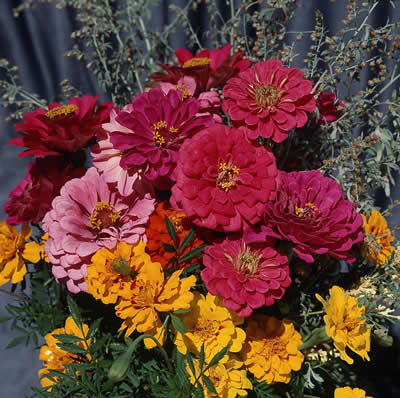 On February 25, 2013, a horticulture program was implemented at County Jail # 5, located in San Bruno. This innovation, implemented by Sheriff Mirkarimi, is part of the Sheriff's Department overall goal of expanding vocational education as a rehabilitation tool. A yard at the jail will be transformed into a living classroom, complete with a greenhouse. Horticulture classes not only provide marketable job skills, but also allow the incarcerated to experience the responsibility of planting seeds and helping them thrive. This collaboration with the San Francisco Sheriff's Department Five Keys Charter High School utilizes an approved curriculum created by the University of California and leads to paid internships at the Sheriff's Garden Project. The Garden Project, managed by Cathrine Sneed is particularly focused on native plant nursery work, food production (for the city's food banks), forestry and foliage abatement for fire safety concerns.
Students attend class five mornings a week with additional homework. Monday, Wednesday and Friday mornings are classroom instruction, and Tuesday and Thursday are hands-on cultivation work. In the afternoon, Five Keys provides a supplemental Plant Botany class.
There are 24 participants in the class and a waiting list for the next semester. Particularly encouraging is the diversity of the group, as this is the first class in the Five Keys Charter School particularly formatted to allow inmates with a mental health diagnoses to attend.
Students will plant the seeds to grow practical skills needed to succeed in the work place with directed study and classes. Business English will include writing resumes, interview skills and memo writing. Math will focus on financial literacy with specialized projects targeting the math needed for landscaping projects.
Graduates may be connected to City College's horticulture degree program, the Garden Project, local training programs and potential employers.
Sheriff's Department Gets Wet for 2013 Polar Plunge
On February 23, 2013, hundreds of volunteers, spectators and brave plungers gathered at Aquatic Park for the 21st Annual Polar Plunge. The Polar Plunge is a fundraising event that raises awareness of the services provided by the Special Olympics. This year, members of the Sheriff's Department raised over $2,000 for Special Olympic athletes.
Sworn members of the department, along with family and friends, took the Plunge into the chilly waters of San Francisco Bay. Some of the plungers also ran in the 5K Family Fun Run/Walk prior to the Plunge. One participant wore a penguin costume, while the rest of us plunged in our uniforms.
Other employees volunteered their time by assisting with set-up and staffing the Sheriff Department's information booth.
Other law enforcement agencies provided games and activities for the kids. Spectators could buy raffle tickets and participate in a silent bid auction. We will be back next year, so look for the announcement in the fall!